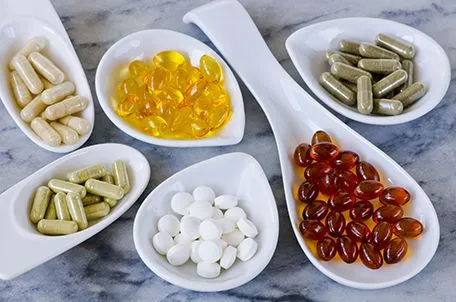 Overview:
Have you been feeling a lack of overall energy and fatigue? Or have you been in pain for a while and want to get better? Adding dietary supplements to your diet might be just what you need for overall wellness. Here's what you should know about dietary supplements for functional medicine.
What are Dietary Supplements?
Dietary supplements, including minerals, amino acids, herbs or botanicals, enzymes, and vitamins, are often prescribed to patients with nutrition deficiencies. Available as pills, capsules, powders, extracts, or liquids, dietary supplements add important nutrients to your diet and can also help treat the symptoms of illness such as osteoarthritis, digestive issues, and chronic pain.
Common dietary supplements include:
Vitamins and minerals like B12, vitamin A, calcium, and iron
Herbs and botanicals like peppermint, chamomile, rosemary, and lavender
Enzymes like lactase, which helps in the digestion of milk
What Are the Benefits of Dietary Supplements?
Adding dietary supplements to your regular dietary routine can help:
Improve bone health
Improve your health during pregnancy
Improve sleep
Reduce chronic pain
Boost immunity
Improve cognitive function
Reduce the risk of heart disease
What to Expect During a Dietary Supplement Appointment
While you do not need a prescription to obtain dietary supplements, it's best to speak to your doctor or nutritionist before you start adding them to your diet. A certified practitioner at Holistic Chiropractic & Healing Arts Center will begin your appointment by asking you a series of comprehensive questions to determine your current health status, including whether you're currently on any medications that may negatively react with any dietary supplements you may be prescribed.
You may have side effects from certain dietary supplements, especially if taken in high doses, combined with certain medicines, or taken before surgery. Some dietary supplements like herbal supplements can also be toxic. An accurate evaluation by a certified practitioner can help you avoid this.
For more information about dietary supplements contact Holistic Chiropractic & Healing Arts Center at 630-548-0700